Last updated on December 5, 2023 2:08 pm
Crisco 100% pure Australian Canola Oil contains 50% less saturated fat than olive oil (Olive oil contains 14.1g/100mL saturated fat (NUTTAB 2010). Crisco Canola Oil is a versatile oil ideal for pan frying. The neutral taste will allow you to get the most flavour from your food.
100% Pure Australian Canola Oil.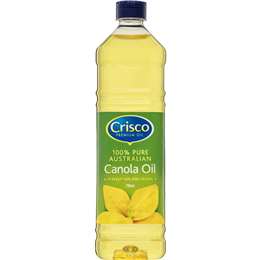 Price History
Statistics
| | | |
| --- | --- | --- |
| Current Price | AU $3.45 | December 5, 2023 |
| Highest Price | AU $3.45 | July 2, 2023 |
| Lowest Price | AU $3.45 | July 2, 2023 |
Since July 2, 2023
Price History
Statistics
| | | |
| --- | --- | --- |
| Current Price | AU $3.80 | December 5, 2023 |
| Highest Price | AU $3.80 | August 29, 2023 |
| Lowest Price | AU $3.80 | August 29, 2023 |
Since August 29, 2023